For cheese lovers! Check out today's recipe, a delicious combination of cheese and The Real Sweet Onion! So, let's see how to make it!
Get the ingredients ready and off you go!
You will need:
– 1 teaspoon of butter
– 2 cups of flour
– ½ cup of milk
– The Real Sweet Onion
– 1 cup of grated Parmesan cheese
– ½ cup of water
– 1 teaspoon of yeast
– Seeds
– Pinch of salt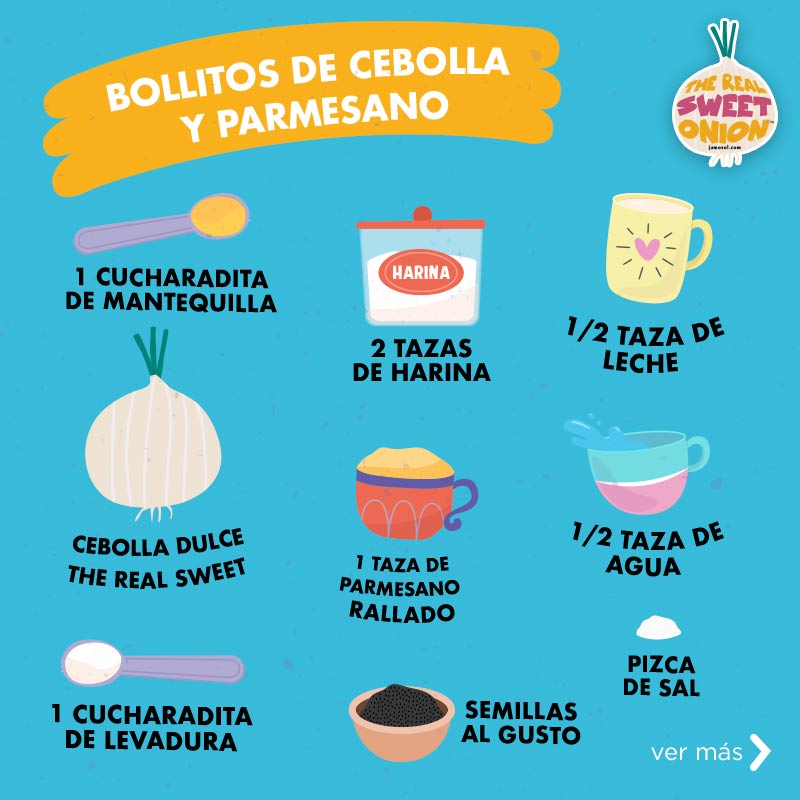 Seeds to taste
Begin by melting the butter in a frying pan. In the meantime, chop our Real Sweet Onion or, if you prefer, use our ready chopped Real Sweet Onion! Add the onion to the frying pan and sauté on a low light.
While the onions are cooking, mix the flour with the yeast, salt and Parmesan cheese in a bowl.  Stir well until evenly mixed.
Remove the onions. Mould the mixture into a half oval shape and make a hollow in the middle. Add the onions, water and milk.
Knead the dough until all the ingredients are evenly distributed.
Leave the dough for approximately 7 minutes and pre-heat the oven.
Roll the dough into small balls about 2 cm thick, sprinkle with seeds and bake for 10 to 12 minutes at 200ºC.
Well that was easy, wasn't it? Just wait till you try them. Mmm… that taste!
If they have turned out great don't forget to share your photo on social media and to label us.