THEY ARE TENDER, HEALTHY, AND HAVE A TOTALLY DIFFERENT TASTE
Tender, healthy and with a totally different taste!
It's time to delve into the World of Onions and look at some of the science behind them! As you know, onions have a lot of beneficial qualities for our health. Do you remember the flavonoids? If you don't know what we are talking about, take a look at this post
Now let's discover more about the qualities of The Real Sweet Onion!
Our onions are tender, easy to digest and have a totally different taste. But let's add to your knowledge of The Real Sweet Onion with some more information.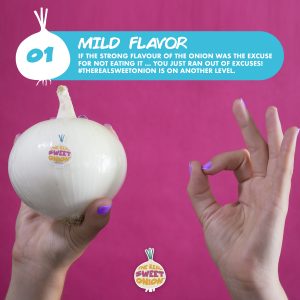 One of the most common ideas people have about eating raw onions is their sharp, pungent taste and sting.  Our onions, as their name indicates, are sweet onions with an extra mild taste so they are delicious, both raw and cooked.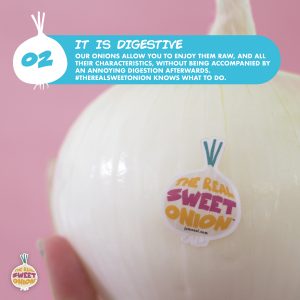 These extra mild-tasting onions are very easy to digest and do not weigh heavy or cause the discomfort that other onions may do. The Real Sweet Onion is perfect to eat whenever and wherever you want! In addition to their delicious taste, they are very, very light!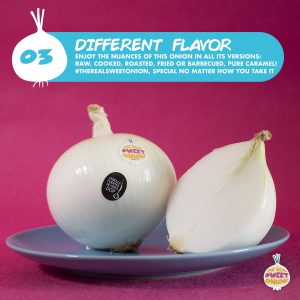 The Real Sweet Onion has a totally different taste, but you'll have to find that out for yourself. Prepare our onions in different ways to sample all of their nuances. So … what are you waiting for? Let's get going!! But be warned … SPOILER ALERT
AHEAD! Whichever way you prepare them they are scrumptious and add incredible flavour to your dishes!